The Maritime Association of SC in partnership with MSC, one of the world's leading cruise lines, is pleased to announce an exciting opportunity for travel while contributing to a noble cause. The Maritime Association is organizing a raffle where participants have a chance to win a free cruise onboard one of MSC's luxury ships while supporting scholarships for deserving students in the state.
Proceeds from the raffle will go directly to a scholarship program initiated by the Maritime Association aimed at empowering bright minds to achieve their educational aspirations. By investing in education, the Maritime Association of SC (MASC) seeks to create a brighter future and unlock the potential of young individuals who are determined to make a difference in the world.
Raffle tickets are available for purchase at designated MASC events and online. The cost of each ticket is $25, and one hundred percent of the money raised will go toward scholarships.
The raffle drawing is scheduled to take place during our Oktoberfest event, September 14, 2023, where the fortunate winner will be randomly selected. You don't have to be present to win.
PURCHASE YOUR RAFFLE TICKETS ONLINE HERE.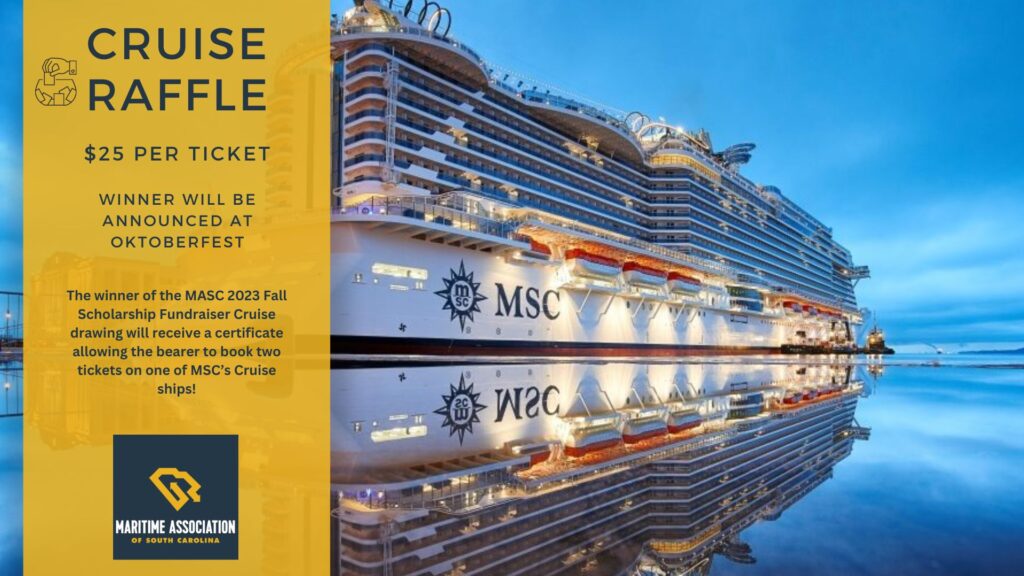 The winner of the MASC 2023 Fall Scholarship Fund Raiser Cruise drawing will receive a certificate allowing the bearer to book two tickets on one of MSC's Cruise ships! Cruises – Cruise Deals | MSC Cruises (msccruisesusa.com)
The certificate includes the cruise fare on the above-stated cruise to the Bahamas for a max of seven days. Transportation, gratuities, fuel surcharges, and pre/post accommodations are not included. This certificate cannot be reassigned or redeemed for cash. This certificate can only be redeemed with the conditions stated in the above offer and cannot be combined with other offers. Confirmation of the sailing date and stateroom assignment is at the discretion of MSC Cruises. This certificate is valid for up to two (2) guests sharing the same stateroom designated with similar capacity for occupancy. Certificate valid for one year from the date of issue.
Status of the confirmation dates requested will be determined 45 days prior to departure.
Ships' registry: Panama and Malta.